Gratitude
Our grand opening week has come to a close, and it is with total gratitude that we move forward at Novo. We are thankful for each of your smiling faces, each noise you made during class, each "thank you" and kind comment you gave after class, and the list goes on and on. We met some AMAZING people during this past week, and we are so excited to get to travel your fitness journey with you at Novo.
During our grand opening week, we saw over 115 people walk through the doors of Novo, filling 12 classes. Many classes were near full, completely full, or running over!
Our grand opening day was super busy but such a wonderful experience. We taught 5 classes starting at 7:30 am and ending at 4:00 pm. In between classes, we had a ribbon-cutting ceremony and dedication of the business.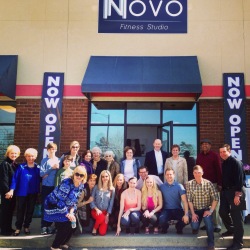 We are so humbled and blessed by the many people who supported us this past week. We cannot wait to see what the next chapter at Novo will bring!